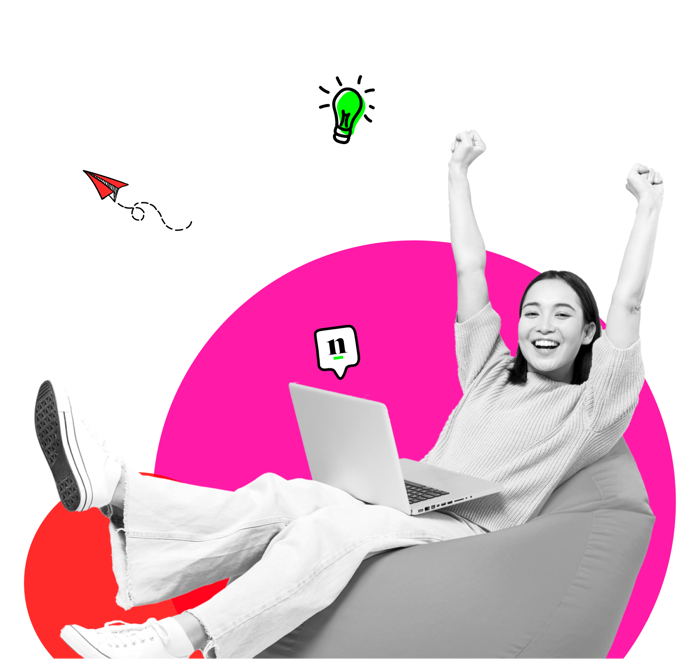 About us
In today's complex financial world, ignorance isn't bliss. For many, it's hardship, hassle, and lost opportunity.
But we believe change is possible. And we're going to lead it. Because when people are in control of their money, they're in control of their lives.
nudge is the global financial education platform that demystifies money management for all.
Drawing on behavioural psychology and data, our platform offers personalized, engaging financial knowledge and skills to educate and delight.
We have a stellar client base including PayPal, Facebook, Boeing, Virgin, IBM, British Gas, Samsung, Investec, Clifford Chance, Selfridges and BlackRock.
And nudge is now live in over 100 countries!  Find out more about us here.
Opportunity
In order to provide our content in Canada to all uses in the country, you will be our translator of highly localised Canadian personal finance content into Canadian French. We cover subjects ranging from everyday finances and budgeting to buying a home and inheritance tax. Anything that impacts the money in people's pockets.
Our office is based in London in the United Kingdom, however this is a remote role and would report into the Global Content Coordinator and liaise closely with our Canada writer.
Responsibilities
This will be a varied and dynamic role and will involve the following key responsibilities:
Translate all types of content for the local Canadian market including, but not limited to, short-form content (social media-style posts), long-form content (articles and stories), email 'nudges'
Liaise regularly with the local Canada writer to ensure content remains relevant, timely and accurate by updating articles alongside changing legislation
Provide translations in a timely manner, typically within two days
Maintain a glossary and style guide for French Canada
Ad-hoc tasks as requested by Global Content Coordinator and/or Canada writer
Skills and experience
We're a close-knit family so a willing, friendly and collaborative personality is really important to us. And we're exceptionally nimble and things move fast so we really value 'athletic' minds and a "let's give it a go" attitude.
For this role the ideal candidate should:
Have a least two years' experience translating and editing content from Canadian English to Canadian French
Be able to create content that demystifies and explains complex financial matters in a digestible way for our French Canadian audience
Be able to demonstrate excellent writing skills in Canadian French, rigorous attention to detail and accuracy, as well as an understanding of different audiences
Fluency in French (Canada) and English
Impeccable knowledge of the grammar and punctuation rules specific to Canadian French
Have a Bachelor's degree or its equivalent in a relevant subject
Good knowledge of Microsoft Office (Word and Excel) and experience of working with Content Management System and Project Management apps (such as Monday.com)
Available to work two days per week (with option to spread over four working days)
Ability to prioritize work and handle multiple projects simultaneously
Ability to work both independently and as part of a team
What we offer
At nudge we put people first.  Our values are "friends through thick and thin", "embracing differences, supporting individuals", "leading and sharing" and "always learning".
We have an open, friendly and supportive work environment that we hope you'll be proud of.  And we're growing fast which means great opportunities for you and your people to gain broad and diverse experience alongside some of the brightest minds in the industry.
We're committed to creating a culture which gives our employees a sense of belonging. This is also reflected in our values as we're learning and growing through embracing differences and supporting individuals.
If it sounds like you, we'd love to hear from you! Send us your CV and cover note via the form below.
Any questions, get in touch with us on careers@nudge-global.com