Build customer loyalty with nudge
Want to give your customers a richer experience? Help them better understand the world of money, as well as your products or services? Give them nudge.

nudge can help you
Understand your customers.
Improve customer engagement.
Position your products and services.
Enhance your brand. 
nudge is the world's leading financial wellbeing platform that integrates news, data and behavioural psychology. Our solution gives your customers personalised financial education, timely unbiased prompts and tools to help them plot a path to prosperity.
Original personal finance content
To guarantee independence, engagement and the highest standards, all of our content is crafted by our team of global editors. Providing you with a blank canvas to position your products or services.
nudge works for you
The nudge solution gives you the inspiration and flexibility to create your own content and use our technology to distribute it in a highly personalised way. nudge works in parallel with your existing customer platforms.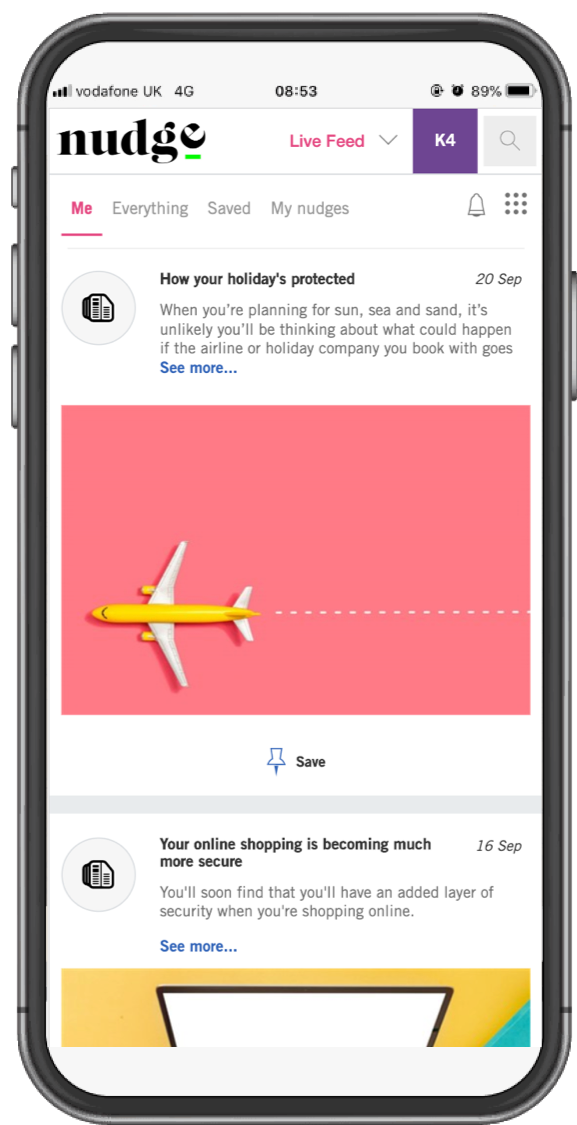 The halo effect
nudge will remain the 100% unbiased, ethical solution that has made it such a world-leader – and your brand will benefit from that ethos. There is zero conflict of interest. We will always be acting in your customers' best interest.
Market-leading tech
nudge has a familiar, friendly interface making it easy to use on any device - mobile or desktop. nudges can be received by text, email or WhatsApp.
nudgenomics is a comprehensive analytics suite that helps you understand the wants, needs, dreams and goals of your customers. With this unique insight, you can understand your customers, increase retention, develop your product offering and give your customers a nudge to help them find the right solution.
OUR CLIENT COMMUNITY
We're ready… are you?
Improve your customer's financial wellbeing
Get in touch to kick off our conversation. Every client relationship we have is unique, we would love to use our experience to help you. We can start with a consultative chat or you can get started straight away with a trial of a time lapsed version of our product.
nudge by name, nudge by nature
The nudge solution uses insights from behavioural psychology – nudge theory – to increase the likelihood of positive outcomes for our users.
It's about how and when you present options – delivering the right content to the right person at the right time – for all the right reasons.
So they can make the right decisions and improve their financial wellbeing.
Brighter financial futures for everyone, everywhere
nudge uses simple, relevant, timely education to help people understand complex financial matters.
nudge helps people take simple proactive actions to increase their wealth, avoid financial problems and make managing money simple and stress-free (sometimes even a pleasure).
nudge helps people achieve financial wellbeing and happiness.