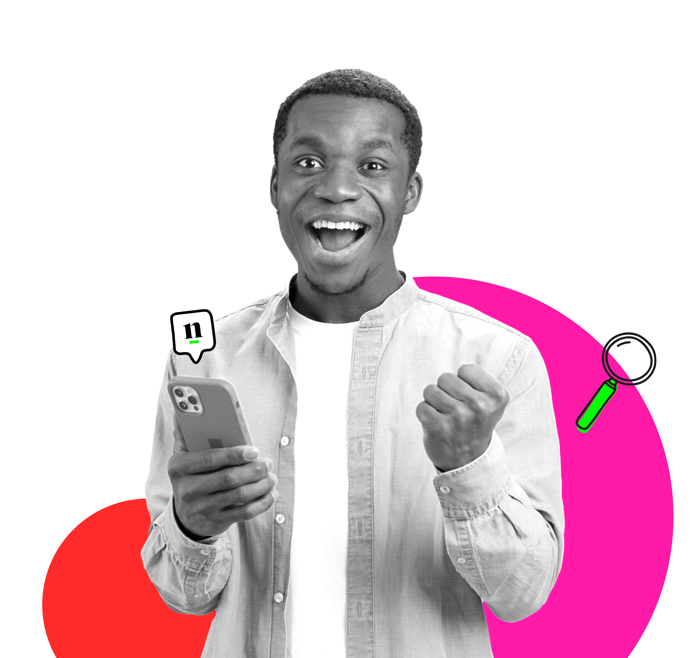 About us
In today's complex financial world, ignorance isn't bliss. For many, it's hardship, hassle, and lost opportunity.
But we believe change is possible. And we're going to lead it. Because when people are in control of their money, they're in control of their lives.
nudge is the global financial education platform that demystifies money management for all.
Drawing on behavioral psychology and data, our platform offers personalized, engaging financial knowledge and skills to educate and delight.
We have a stellar client base including PayPal, Facebook, Boeing, Virgin, IBM, British Gas, Samsung, Investec, Clifford Chance, Selfridges and BlackRock.
And nudge is now live in over 100 countries!
Find out more about us here.
Opportunity
As an Information Security Analyst, you'll act as the primary security & privacy point of contact for multiple projects and initiatives.
You'll work with projects of all sizes up to and including complex organisation-wide change programs. Collaborate with stakeholders at all levels to ensure that they understand their information security risks and the mitigation options open to them. You'll be able to accurately identify areas of risk that require escalation and will proactively suggest improvements when opportunities arise.
Ensure that nudge remains compliant with relevant local privacy regulations wherever services are provided.
You'll use a variety of industry standard tools and techniques to assess risks, such as Information Security Standards based on the ISF Standard of Good Practice and ISO 27001 ISMS.
Responsibilities
We are looking for someone to work as an Information Security Analyst. nudge is fast moving, which means that sometimes our roles can be pretty-varied. However, some of the core parts of the role will be:
Engagement in diverse security projects, supporting Project Leads and Subject Matter Experts on defining requirements and delivering solutions.
Owning project deliverables and completing these on time and within budget
Supporting the Senior Management Team through design and scoping complex and bespoke engagements, identifying the dependencies and critical paths
Support technical development (e.g. through service development or research) and contribute to company technical processes overall
Maintain relevant professional certifications and contribute to industry bodies as appropriate
Proficiency in writing technical documentation, helping to present complex information in a concise and coherent manner
Recording and updating processing activities as required
Producing data maps to illustrate the flow of personal data
Updating and managing privacy registers; risk, breach, incidents, policy and notice
Creating and sending out assessments to business owners and third-party vendors
Monitoring Data Subject Requests, conducting initial assessments regarding their validity and supporting the team to ensure all requests are handled appropriately within the regulatory timeframe
Supporting cookie compliance by monitoring scan results and highlighting issues
Supporting the Sales Team with security and privacy guidance and assessments
Carrying out internal audits
Managing awareness training program
Producing reports to support the global privacy team, including cross-border transfers, vendor risks, data subject metrics, Article 30 compliance etc.
Skills and experience
We're a close-knit family so a willing, friendly and collaborative personality is really important to us. And we're exceptionally nimble and things move fast so we really value 'athletic' minds and a "let's give it a go" attitude.
For this role we're also looking for the following skills and experience:
A methodical and logical approach, with great attention to detail
A self-starter, who is comfortable working alone or as part of a team
Excellent team working and interpersonal skills
Strong analytical and organizational skills with respect to time management, work production and prioritization. Able to multi-task and deal with sudden shifts in priorities
Understanding of privacy legislation including EU General Data Protection Regulation, UK Data Protection Act, ePrivacy/Privacy and Electronic Communications Regulations etc
Ability to write concise documents such as policies, standards, procedures and risk assessments
An interest in technology and business operations
The ability to present and communicate findings in reports and spoken communications
Preferably an interest in personal finance
Nice addition:
Familiarity with security frameworks like ISO 27001
What we offer
At nudge we put people first.  Our values are "friends through thick and thin", "embracing differences, supporting individuals", "leading and sharing" and "always learning".
We have an open, friendly and supportive work environment that we hope you'll be proud of.  And we're growing fast which means great opportunities for you and your people to gain broad and diverse experience alongside some of the brightest minds in the industry.
Share options
A competitive salary
A personal learning and development allowance
25 days annual leave, plus your birthday off
A company pension scheme
Life Assurance and Critical illness cover
Private Medical Insurance cover
Regular company socials and wellbeing activities
A flexible working environment
Unparalleled opportunity to develop your career rapidly through exposure to all company areas
We're committed to creating a culture which gives our employees a sense of belonging. This is also reflected in our values as we're learning and growing through embracing differences and supporting individuals.
If it sounds like you, we'd love to hear from you! Send us your CV via the form below.
Any questions, get in touch with us on careers@nudge-global.com