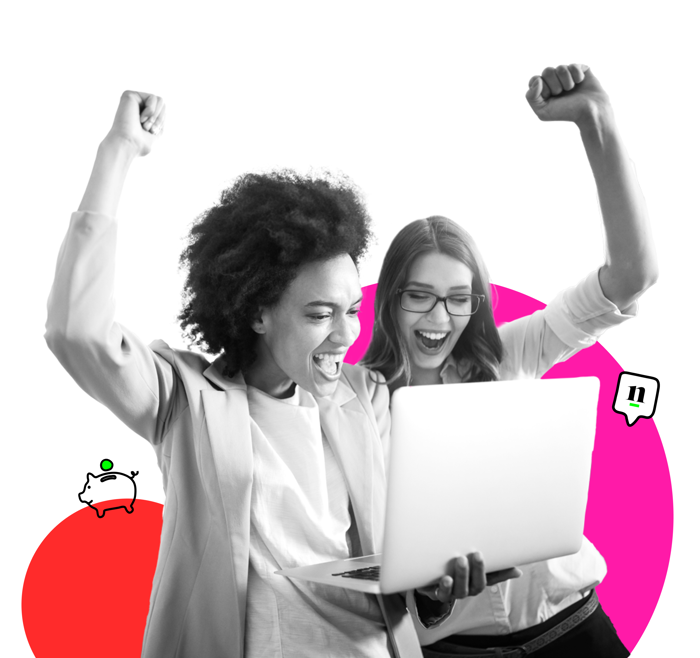 About us
In today's complex financial world, ignorance isn't bliss. For many, it's hardship, hassle, and lost opportunity.
But we believe change is possible. And we're going to lead it. Because when people are in control of their money, they're in control of their lives.
nudge is the global financial education platform that demystifies money management for all.
Drawing on behavioral psychology and data, our platform offers personalized, engaging financial knowledge and skills to educate and delight.
We have a stellar client base including Facebook, Virgin, IBM, Accenture, Bloomberg, Samsung, Visa and Selfridges.
And nudge is now live in over 100 countries!  Find out more about us here.
Opportunity
The Client Service Consultant is responsible for onboarding new clients, ultimately managing the delivery and implementation of the nudge technology on a global scale. You will be leading the "launch" phase of the client journey, which typically begins once a client has signed up to use the nudge technology and runs all the way through to post go-live when we can confirm the service has been seamlessly embedded into day-to-day operations.
This is a great role for someone who has some experience in managing technology projects and is looking for their next challenge, with a focus on the delivery of global technology rollouts and opportunities to grow and develop their career in a fast-paced SaaS business.
Responsibilities
This will be a varied and dynamic role and will involve the following key responsibilities where you will:
Lead – you will draw from your experience to project manage new client implementations to ensure they are delivered on time, to scope and within budget. You will have the knowledge and confidence to consult on the best solutions and to make recommendations on how to approach and resolve complex project scenarios that may arise during the delivery phase. You will be capable of executing each step of the project with support from the relevant subject matter experts.
Build – just as important as your ability to lead projects is that you are able to create strong and long-lasting client relationships with key stakeholders during the project lifecycle.
Organise – project governance will be key; this will include the creation and maintenance of project plans and documentation, actively tracking open actions, risks and issues as well as managing and leading regular key client stakeholder calls.
Collaborate – working with your nudge colleagues to configure the nudge technology in a way that enables future process automation and also facilitates high levels of employee engagement. You'll also ensure there are effective handovers between Sales (at the start of the project) and Client Success Managers (at the end of the project).
Innovate – With your experience of delivering similar projects you will bring ideas and energy to help drive improvements to our existing methodology.
Skills and experience
We're looking for someone with 2+ years of project management experience who is passionate about delivering a best-in-class service to the clients they work with. nudge is growing at speed so you'll embrace fast-moving and constantly evolving environments. If some or all of the qualities below resonate with you then we would love to hear from you.
Project management experience and recognised qualifications such as PRINCE2 or Agile.
Experience of delivering technology projects, if these are global and in the HR and Benefits ecosystem that's a plus.
Experience of working with project stakeholders at varying levels of seniority within the business.
You are a creative problem solver and embrace the opportunity to find solutions when presented with a challenge.
You have the capability to proactively plan your workload, even when you have multiple and seemingly conflicting priorities.
You thrive when working collaboratively with other team members as well as being happy completing tasks autonomously; whilst you will be supported every step of the way, you won't require micro-management.
You have exceptional attention to detail, with an enthusiasm for accuracy.
You have excellent oral and written communication skills, with a confidence to build relationships.
You're passionate about technology (embracing the more technical details) and understand the positive impact it can have for our clients and end users.
You're commercially aware and understand how your role and performance influences wider team and company objectives.
What we offer
At nudge we put people first.  Our values are "friends through thick and thin", "embracing differences, supporting individuals", "leading and sharing" and "always learning".
We have an open, friendly and supportive work environment that we hope you'll be proud of.  And we're growing fast which means great opportunities for you and your people to gain broad and diverse experience alongside some of the brightest minds in the industry.
Share options
A competitive salary
Financial education 
A personal learning and development allowance
25 days annual leave, plus your birthday off
A company pension scheme
Life Assurance and Critical illness cover
Private Medical Insurance cover
Regular company socials and wellbeing activities
A flexible working environment
Unparalleled opportunity to develop your career rapidly through exposure to all company areas
We're committed to creating a culture which gives our employees a sense of belonging. This is also reflected in our values as we're learning and growing through embracing differences and supporting individuals.
If it sounds like you, we'd love to hear from you! Send us your CV and cover note via the form below.
Any questions, get in touch with us on careers@nudge-global.com